Conversation on Gender and Belonging (September 13, 2023) – JWF-NJ Trustees broadened their understanding of gender expression with the help of Keshet, an organization working towards the full equality of LGBTQ+ individuals in Jewish life.


Billie Jean King: Champion. Activist. Legend. (October 2, 2022) – JWF-NJ members participated in a private tour of the special exhibit at the Yogi Berra Museum.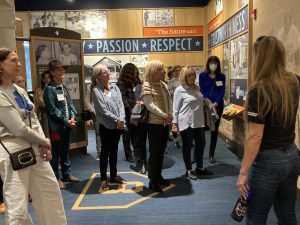 Art for Justice – Ending mass incarceration and underlying racial bias through art advocacy (April 11, 2022) – JWF-NJ members joined for an in-person program with Helena Huang of the Ford Foundation's Art for Justice project.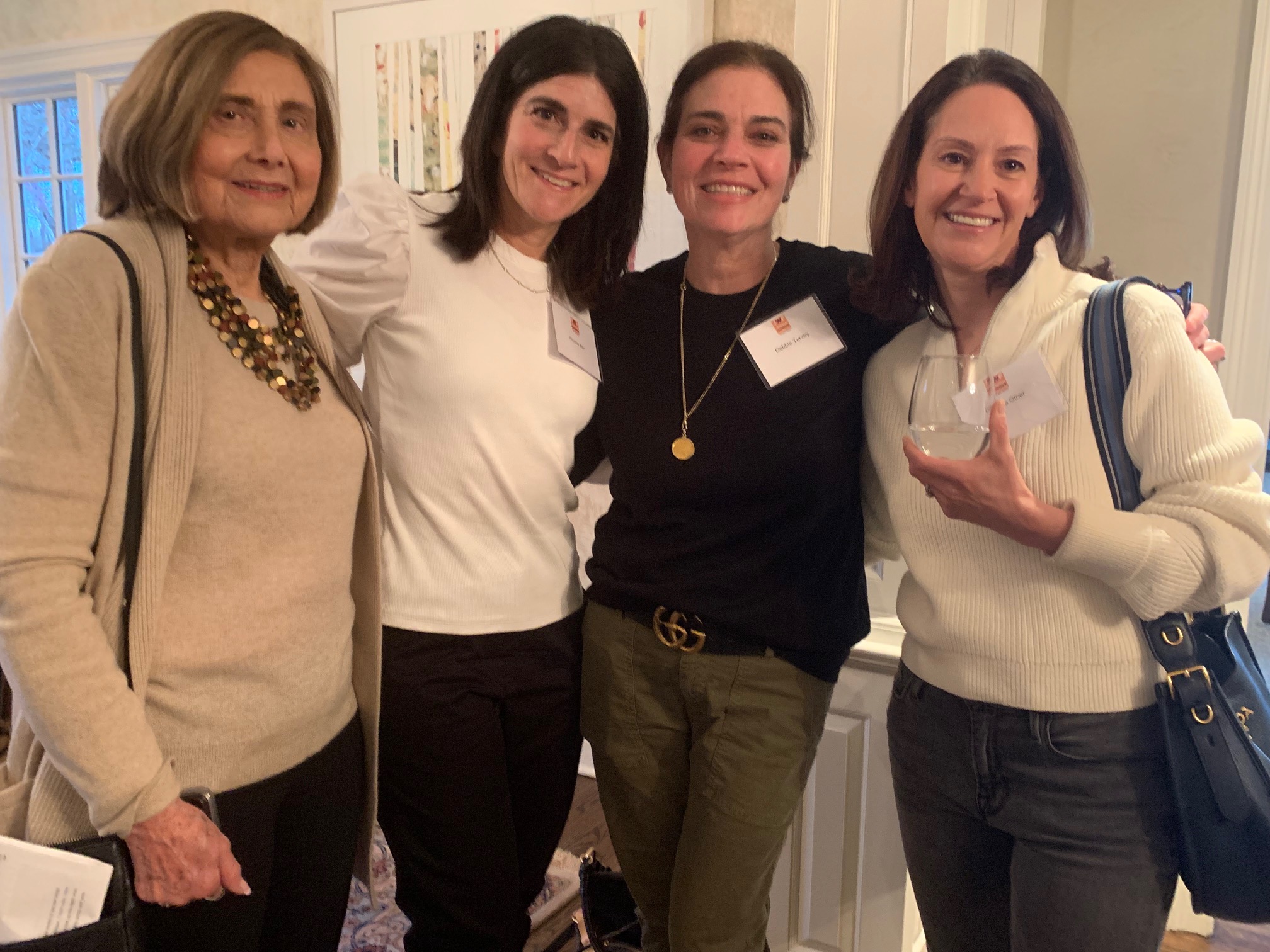 Maternal Health: NJ's Hidden Crisis (October 28, 2019) – JWF-NJ members, guests and Director joined together for JWF-NJ's Education and Enrichment series to learn more about this hidden crisis in NJ from program officers at the Nicholson Foundation.
Planned Parenthood Gala (October 15, 2019) – JWF-NJ members, guests and Director attended the Planned Parenthood gala where First Lady of NJ Tammy Murphy was honored and Anna Quindlen, novelist and journalist was the featured speaker.
She Persists (September 16, 2019) – JWF-NJ members, guests and Director participated in a tour of this arts exhibit, a curated installation in Gracie Mansion's public spaces, celebrating a century of women artists in New York from 1919-2019.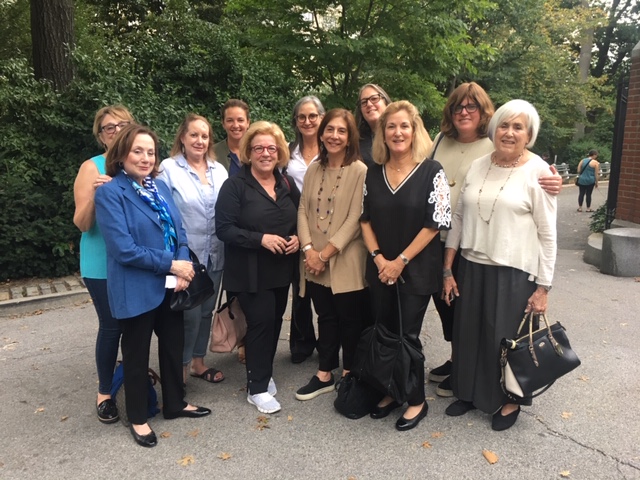 1870s-Kimono Refashioned! (January 6, 2019)—A group of JWF-NJ members met at the Newark Museum on the final day of this extraordinary show.  The exhibit showcased the impact of Japanese garments, textiles, design and aesthetics on global fashions created by internationally recognized designers such as John Galliano, Sarah Burton for Alexander McQueen, Iris van Herpen and Issey Miyake.
Kara Walker, Virginia's Lynch Mob and Other Works (December 20, 2018)—JWF-NJ members and guests participated in a private tour of the Kara Walker exhibit led by docent Cheryl Slutzky.  Kara Walker is a leading contemporary artist best known for her innovative use of the silhouette form.  Walker explores issues of race, gender, sexuality, and violence in American history and contemporary culture.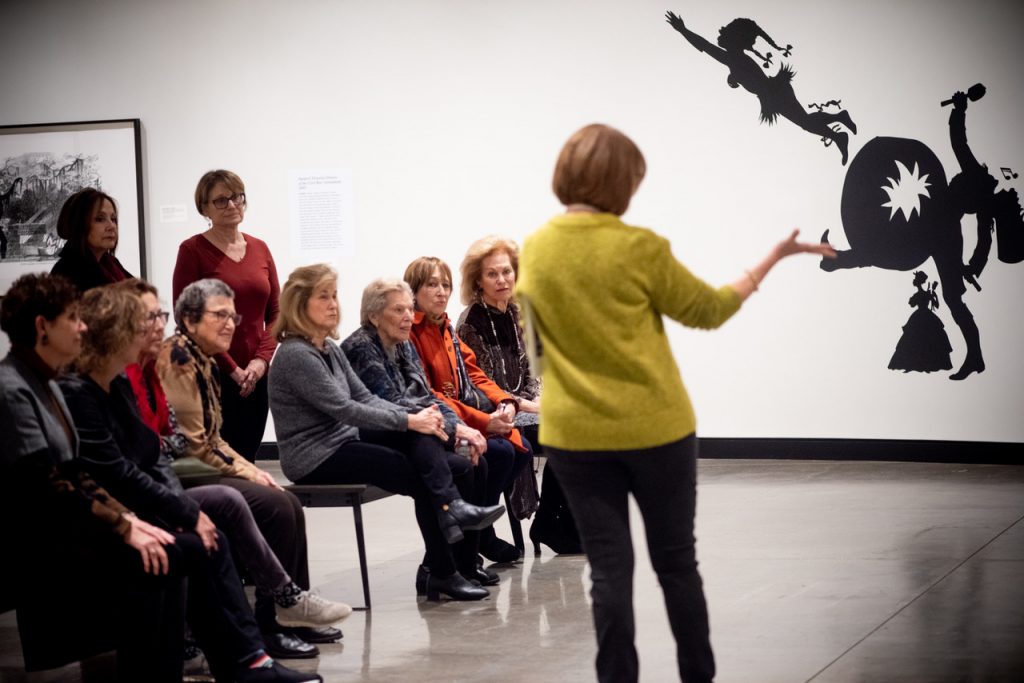 For the third consecutive year, JWF sponsored one of the screenings at the NJ Jewish Film Festival at the JCC of West Orange. On Thursday, April 4, 2019 at 11:30am NJJFF presented "Working Woman," an absorbing Israeli drama that tells the story of a woman finding the inner strength to stand up to sexual harassment in the workplace. The screening was followed by a JWF members' lunch and board meeting at the JCC.
JWFNJ members have been invited to "join the conversation" on March 8, 2019 as the Women's Association of NJPAC brings together a diverse group of New Jersey women to share their insights on the growing impact of women-led philanthropy.  A diverse panel of women who represent giving circles, local family foundations, nonprofits and corporations will share their unique insights on how investing time, talent and treasure can strengthen communities.  In addition to the Women's Association of NJPAC, this special morning conversation is being presented by the Community Foundation of New Jersey, Impact100 Essex, and in association with such organizations as Jewish Women's Foundation of New Jersey, Association of Black Women Attorneys, Executive Women of New Jersey, Latinas in Business Inc., Essex-Hudson Chapter of Jack & Jill of America, Inc.
Volunteer Lawyers for Justice (VLJ) presented the Jewish Women's Foundation of New Jersey (JWFNJ) with the 2018 Community Vision Award at its Arts & Eats for Justice 2018 Benefit at the Valley Regency in Clifton. JWFNJ provided initial funding for VLJ's Trafficking Victims Legal Assistance Program.  With the help of JWF's vision and investment, not only has VLJ been able to transform the lives of human trafficking survivors, but VLJ leveraged the support to position the organization as the NJ legal services leader on human trafficking matters. 
For the second consecutive year, JWF NJ was pleased to sponsor the opening night of the NJ Jewish Festival at the JCC of West Orange. The thought-provoking film "SHELTER" tells the story of a female Mossad agent who protects a female Lebanese informant in a safe house in Hamburg while recovering from plastic surgery for her new identity. The intimacy of the relationship that develops between the two women is exposed to the terror that is engulfing the world today. More than 23 JWF members and friends gathered for a JWF-sponsored cocktail hour prior to the film's screening and then came together again at the post-viewing dessert reception to explore the numerous twists and turns of the film's plot.