Interview with Cathy Keenan, Executive Director
VLJ, whose tag line boasts "Taking Cases. Changing Lives," has benefitted from two grants from the Jewish Women's Foundation (JWF).
The first supported a legal needs assessment for female veterans in New Jersey. The agency wanted to explore and uncover any needs unique to this population. The second grant funded the launch of the Trafficking Victims Legal Assistance Program – an effort to get all criminal convictions vacated from a victim's record. Legal convictions can stand in the way of a victim's recovery and establishment of a more normal, stable life. According to Keenan, the impact is permanent and transformative.
TRAFFICKING VICTIMS LEGAL ASSISTANCE PROGRAM
This program provides full representation services to trafficking victims. Often, victims are unknowingly recruited because of false promises (employment, security, gifts, help with child custody issues) and wind up accumulating drug, loitering, and prostitution charges while suffering beatings and horrific conditions. After they testify against their traffickers, some charges may remain on their record, standing in the way of future employment, housing, and education.
VLJ has received enthusiastic support from the legal community and works side by side with volunteer attorneys from top NJ firms, training them to work in this specialized area and coaching them on how to support these specialized clients. A VLJ attorney serves as co-counsel with a volunteer lawyer to ensure continuity of service for the clients, many of whom continue to suffer the effects of their trauma. Together they file all court orders with the necessary parties to ensure that the client's record is properly cleared.
VLJ is also raising awareness about the need for this service in the courts and within agencies that serve victims.
The JWF grant was the primary source of funds that propelled a pilot program (1 case) to a fully realized idea (more than 20 current cases, and awareness for more than 300 others). 
FEMALE VETERANS PROGRAM
Female veterans face unique challenges in the transition back to civilian life. Issues may range from family law to consumer law to military trauma. From July 2015 to June 2016, VLJ conducted New Jersey's first-ever legal needs assessment for female veterans in an effort to identify and better meet the needs of female veterans. JWF helped support this important initiative. VLJ drafted two distinct surveys. The first survey was intended for female veterans and female military personnel. The second survey was created for individuals and organizations working with veterans in New Jersey, including non-profit agencies, government staff, and other advocacy organizations. Additionally, VLJ connected with 150 service organizations statewide, hosting ten legal seminars throughout New Jersey on issues with which female veterans were seeking help.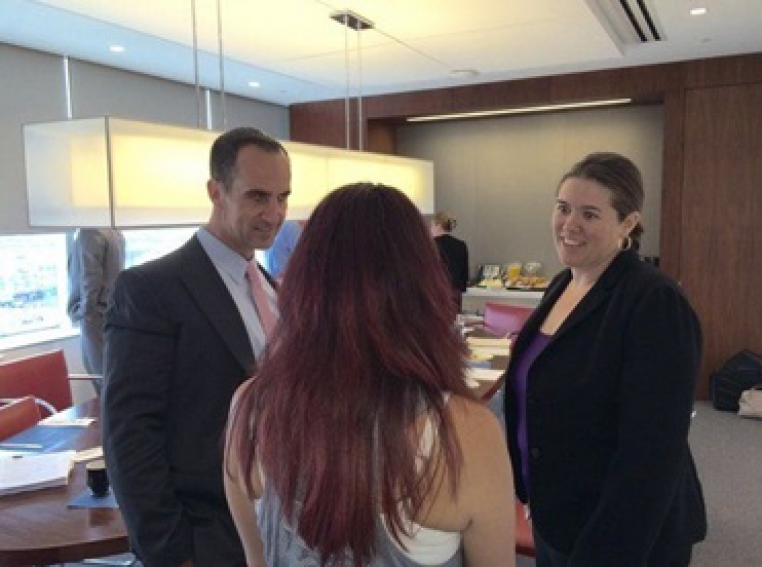 Geoffrey Rosamond, McCarter & English; M.S., Trafficking Victims Legal Assistance Program client; and Jessica Kitson, Volunteer Lawyers for Justice